Hello Evie Adventurers! I am so excited to be guest posting today!
I am Fawnda from
Fireflies and Jellybeans
, a little DIY blog that I co-author with my best friend Jeannine! We love all things crafty and we have some great projects for you all to try!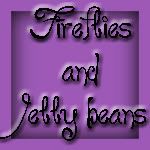 I am a mom to one son who we adopted from Korea. He is almost 2 and keeps me VERY busy! I am also a math tutor part time (I know what you are thinking... Math GEEK! But I am OK with that!) I am addicted to clothes- A girl can never have enough clothes! And scrapbook paper-I want every themed pack that I can get my hands on! I also LOVE blogging, it is surprising how fast I got sucked in!
Today, I have a special project for you all! Something to make you look chic and stylish while you are out adventuring! :)
A Ribbon-Bead Necklace - Have you seen these in the stores? I love them but I knew that I could make one with supplies I already had at my house! This tutorial is for personal and gift giving use only! If you don't want to spend the time to make your own, I am selling them in my etsy shop
Funky Joy
!
Here is what you will need:
Beads (big and chunky seem to work out better- I think)
Ribbon
Thread (I used quilting thread and I doubled it up)
A hand sewing needle

1.) Cut a ribbon length of 36 inches or more (depends on how long you want your necklace... I would say that 36 inches is the smallest you would want to go- mine is 36 inches) Tie a knot about 12 down from one end of the ribbon.


2.) Thread your need and tie a knot at the end of the thread. I double threaded mine to give it more strength.


3.) Put your needle through the knot and pull it all the way through so that the knot on the thread is hidden in the knot on the ribbon.


4.) Thread a bead on and than pull the ribbon over and sew through the ribbon.


5.) Add some more beads and sew through the ribbon again. A tip: leave a little slack in the ribbon it will weave through your beads a lot better.


6.) Continue adding beads and weaving your ribbon through. The ribbon will "weave" better if you pull the beads tight... this is why you need strong thread.


7.) Once you get to where you have about 12 inches left at the end of your ribbon tie a knot and sew your thread through it. Tie off the thread.


And TA-DA a very chic and stylish necklace all for you!

Now adventure on over to
Fireflies and Jellybeans
and be our friend too! We have many more fun crafty tutorials waiting for you!
We also have our Show Off Your Stuff parties every Thursday for you to link up your posts that you want to show off! Come join in on the fun!
Thanks Evie for letting me invade your blog today! I had so much fun!
____________________________